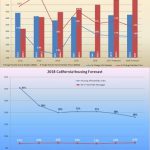 According to CAR
California home sales dip in November, C.A.R. reports
– Existing, single-family home sales totaled 440,340 in November on a seasonally adjusted annualized rate, up 2.1 percent from October and down 0.8 percent from November 2016.
– November's statewide median home price was $546,820, up 0.1 percent from October and up 8.8 percent from November 2016.
– With housing inventory remaining at stubbornly low levels, the statewide unsold inventory index dropped to 2.9 months in November.
After reaching its highest level in a decade in August, the statewide median price was essentially flat from October but remained above the $500,000 mark for the ninth straight month. The $546,820 November median price was 0.1 percent higher than October's $546,430 price but climbed 8.8 percent from the revised $502,490 recorded in November 2016. The year-over-year gain was the highest since January 2016. The median sales price is the point at which half of homes sold for more and half sold for less; it is influenced by the types of homes selling, as well as a general change in values.
www.nsdcar.com/inventory-shrinking-demand-homes-not-declining/
As the year is winding down, so is the housing market, both locally and statewide, according to industry analysts and the California Association of REALTORS® (C.A.R.). Among the major reasons for the slowdown include scarcity of housing inventory resulting in higher home prices, C.A.R. said. The number of homes for sale keeps decreasing, but demand is not slowing down.
C.A.R. reports that pending home sales shrank for the fourth consecutive month in October, the most recent month for available numbers. Based on signed contracts, year-over-year statewide pending home sales dropped in October on a seasonally adjusted basis, with the Pending Home Sales Index (PHSI) declining 2.6 percent from 119.1 in October 2016 to 116.0 in October 2017. In San Diego, the PHSI was 123.6 in October 2016 and 109.5 in October 2017, a decline of 11.4 percent, one of the highest percentage changes in the state behind Santa Clara (-21.4 percent) and Riverside (-14 percent). Pending home sales declined on an annual basis for nine of the last 10 months in 2017, C.A.R. said.
With the economy expected to continue growing, housing demand should remain strong and incrementally boost California's housing market in 2018, C.A.R. said. However, C.A.R. said a shortage of available homes for sale and affordability constraints will continue to be a challenge.
The California median home price is forecast to increase 4.2 percent to $561,000 in 2018, following a projected 7.2 percent increase in 2017 to $538,500.
"This year's housing market can be told as a tale of two markets, the inventory constrained lower end and the upper end that's non-inventory constrained," said C.A.R. Senior Vice President and Chief Economist Leslie Appleton-Young. "This trend is likely to continue into 2018 as active listings have declined across all price ranges for the past two years, but is most obvious at the lower end.years, but is most obvious at the lower end.